Curriculum
INTENT
We aim to equip our children with skills and knowledge through an engaging, meaningful and in-depth curriculum. At Ivy Lane, we want our children to embody the school's ethos of 'Learning for Life' and develop a life-long appetite for learning. Therefore, the curriculum is designed to build on children's prior learning, offer real life experiences and challenges, whilst also encouraging the children to develop their unique talents, interpersonal skills, resilience and become creative, critical thinkers.
We use our Ivy Lane values (see below) to stimulate positive attitudes to learning which reflect the values and skills needed to promote responsibility for learning and future success.
OUR SCHOOL VALUES
Value Learning
By being open-minded
By rising to challenges
By valuing different skills and knowledge
Value Others
By being a good team player (and citizen)
By caring and sharing
By respecting others (beliefs, ideas and feelings)
Value the Environment
By caring for our school
By appreciating the natural world
By respecting the local environment
Value Ourselves
By looking after ourselves (including on the internet)
By having good manners & being honest
By trying our best
IMPLEMENTATION
WE AIM TO ACHIEVE THIS BY:
Having high expectations of all children in their learning
Promoting high standards of behaviour & the school values
Providing opportunities for parental partnership & involvement
Valuing high attendance
Offering a broad & balanced curriculum with a local, national & global focus
We have some whole school themes which are delivered at different levels and different focuses for different age groups.
Blocking some subjects to ensure we are giving quality time to embed the skills and knowledge
Aiming for all our children to be competent readers and read for pleasure
Harnessing technology to support learning
Promoting sports and healthy lifestyles
Teaching 'Learning for Life' skills
Giving all children the opportunity to experience the arts & the 'natural world'
Utilising the local and wider community to encourage 'out of class' learning
Providing opportunities for all our pupils to be active citizens within the school & wider community
We are currently reviewing our curriculum. We are exploring what makes Ivy Lane special and we are working with other PAT schools to construct a curriculum localised and bespoke to our school, learners and families. We will approach this through an enquiry based learning which has a progressive framework to integrating the National Curriculum with new and big ideas of the 21st century.
National curriculum objectives for each year group can downloaded here.
english aims and experiences
At Ivy Lane we will promote the life skills of English by:
Establishing an entitlement for all pupils;
Providing children with interactive learning opportunities that are matched to their needs;
Endorsing a shared love and understanding of English, especially a culture of reading for pleasure;
Teaching an engaging skills based curriculum in Reading - equipping children with the tools needed to understand a text;
Developing a growing vocabulary in written and spoken form;
Establishing high expectations for teachers and pupils;
Developing continuity and coherence across the school;
Developing an understanding of grammar that underpins our use of language;
Having opportunity to write clearly, adapting their language and style for a range of contexts, purposes and audiences;
Understand spelling conventions and
Have the opportunity to develop neat and well presented work.
Key Experiences
We aim to provide children with the following key experiences:
The opportunity to share in quality speaking and listening experiences on a regular basis.
Access to a range of reference, fiction, poetry and non-fiction materials within the school and the opportunity to take home books of their own choice from Chippenham Library, the school's own Library and the class reading area.
The opportunity to engage in guided, shared and individual reading, writing and big talk activities (see Ivy Lane's 50 experiences for more details).
Access to a wide range of writing materials and implements for all aspects of writing.
The opportunity to experience theatre at least once during Key Stage 1 and Key Stage 2.
The opportunity to learn stories and take part in story making every second term.
The opportunity to engage in extended writing regularly.
The opportunity to write books, plays and poetry for other audiences at least once during KS1 and KS2.
The opportunity to take part in a performance for a wider audience, including assemblies and productions.
The opportunity to participate in book/author/storytelling events.
The opportunity to participate in projects run to develop the skills involved in English (eg. Bath Rugby Project and Page turners)
The opportunity to receive high quality and first class teaching of reading, writing grammar, spelling and phonics.
reading and phonics
We provide opportunities for children to learn about reading in a variety of ways – through the teaching of phonics, reading independently and aloud to an adult, through reading in pairs, in guided groups and as a class depending on their needs, the nature of the activity and the learning objectives.
In Key Stage 1 we use a range of resources to teach phonics. This includes letters and sounds; Jolly Phonics; foam letters; flash cards and a wide range of games. These are also available for small groups of children that may not have met the phonics check at lower Key Stage 2.
Across both key stages we use a wide variety of teaching materials and texts for reading, including: The turning pages project; Better Reading Partnership, Letters and Sounds, BLAST, Narrative therapy, Oxford Reading Tree, Big Cat Collins and whole class texts. This enables every child to access the planned activities and achieve the planned learning objectives.
We build children's self-esteem and confidence as language users by sharing learning objectives with them and through positive and constructive oral and written feedback. For more detail see the marking and feedback policy.
The local library is as resource through class visits. Children and parents are encouraged to use the library to support reading at home.
Our new school library launches in 2017 and the whole school community is encouraged to use it's facilities.
writing, spelling and grammar
We provide opportunities for children to learn about writing, spelling and grammar in a variety of ways – through writing independently, sharing writing in pairs and in guided groups. There are also games and learning activities completed as a class depending on their needs, the nature of the activity and the learning objectives.
We use a wide variety of teaching materials, including: The Somerset Literacy network spelling framework; Spelling Passports, The Bath Rugby project; The Story Making Framework; Ros Wilson's techniques for writing including; Big Talk activities within school and as part of homework; interactive games to develop writing skills and Narrative therapy. This enables every child to access the planned activities and achieve the planned learning objectives.
We have a high expectation for handwriting to be correctly formed and encourage children to earn pencil licenses in Key Stage 1 and pen licenses in Key Stage 2 (for more details see the writing guildelines).
We enable children to develop written and spoken English through the model we set as teachers, through creating a stimulating environment and through sharing and providing good quality children's reading materials.
We plan for matched learning so that children's interest is maintained, individual needs are met and developed, ensuring all children achieve success appropriate to their potential.
maths
Teachers will ensure that:
Children receive a broad and rich mathematical programme of study based on the National Curriculum.
A daily, dedicated mathematics lesson is given to all children teaching them the necessary skills to become independent explorers of mathematics.
Opportunities are presented for children to learn in a variety of ways, as individuals, partners, groups or as a class, to further develop their mathematical skills and understanding.
The foundations of mental calculations and recall of number facts are established before standard methods are written.
'Maths Passports' are used which provide regular opportunities to improve mental skills at every level and are also used for children to reach individual maths targets.
A high proportion of the lesson is devoted to direct teaching of whole class and groups, making judicious use of text books (Busy Ants), Wiltshire 27 & Bare Necessities booklets, work sheets (Mathsphere) and ICT resources (including: 10 Maths Miracles; 101 Mental & Oral Starters & Busy Bees) to support teaching & learning.
Through the processes and demonstration and illustration of mathematical ideas, children are able to make links between different mathematical topics and cross-curricular links understanding where mathematics is used in everyday life.
Individual pupils have access to 'Maths Packs' which include number lines, times tables up to 12 x 12, 100 squares and number fans which model mathematical ideas and develop their independence in choosing and using appropriate resources.
Pupils understanding of mathematical language and use of notation are developed. Teachers must expect pupils to use correct mathematical language and notation, and this is clearly visible on class Maths boards.
Effective questioning is used and pupils are asked to explain and demonstrate their methods, as this consolidates their understanding.
Pupils are involved in their own learning and maintain their interest through appropriately differentiated, challenging work to ensure all children reach their true potential.
There is targeted positive support eg. Booster, Springboard, Wave 3, 1 to 1 and Overcoming Barriers to help children reach their full potential.
Children take an active role in the assessment procedure through group and class target setting. This is based on our Maths Passport learning. Each term the whole school works towards a target in the same area of maths, and is the focus in mental/oral work and in problem solving.
The school has agreed guidelines on the progression of teaching of calculation which indicates the methods of written calculation that the children are encouraged to learn. All teaching and learning must adhere to these methods, with these policies having been reviewed during 2013/14 and now in line with Curriculum.
50 Experiences before you leave ivy lane
As well as following the national curriculum, children at Ivy Lane will also get the opportunity to take part in 50 Experiences before you leave Ivy Lane. Launched in January 2017, 50 Experiences was designed to ensure children have a wide variety of learning opportunities beyond that of the national curriculum. In their reception year, children receive a 50 Experiences booklet which they keep with them through their seven years at Ivy Lane. Stickers are awarded for successfully completed activities and children can record their experience in any way they prefer. To have a closer look at the 50 Experiences please download the booklet here.
music
School Music Lessons
We have 3 peripatetic music teachers who visit the school each week teaching our children a variety of musical instruments. Learning a musical instrument at an early age gives children terrific opportunities to develop musical skills, improve their confidence by performing in front of others and build social skills by rehearsing and performing as an ensemble. The lessons currently on offer at Ivy Lane:

Although we don't currently have any children doing Brass lessons, if there is interest we will look at providing a tutor. So please let the school office know if you would be interested on: 01249 652 556 or admin@ivylane.wilts.sch.uk This e-mail address is being protected from spambots. You need JavaScript enabled to view it .

Lessons are offered on an individual or shared basis and if your child is interested in learning an instrument or continuing with their current lessons, then please contact the individual teachers below, who will be able to send you further information.
Support towards tuition costs.
There are substantial subsidies available to help support towards tuition costs. Please click here to read the leaflet for further information or discuss with your music teacher whether you may qualify.
Should you wish to hire an instrument or receive a subsidy on the cost of lessons, please contact the music teacher direct, see below: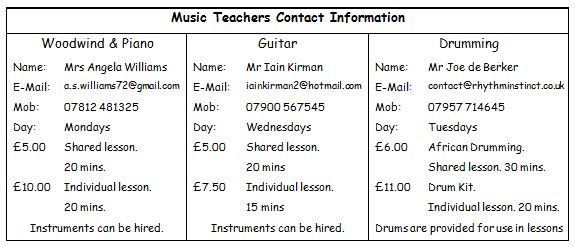 Direct e-mail links to music teachers:
Anglea Williams - a.s.williams72@@gmail.com
Iain Kirman - iainkirman2@hotmail.com (This e-mail address is being protected from spambots. You need JavaScript enabled to view it).
Joe de Berker - contact@rhythminstinct.co.uk
RSE (relationships and sex education)
At Ivy Lane we use the Jigsaw scheme to deliver Relations and Sex Education (RSE).
By clicking here you will find the outline of the individual lesson focus and outcomes for the 'Changing Me' part of the Jigsaw scheme for every year group. This is designed to be age-appropriate and sensitive to your child's current level of maturity and understanding, while also being fully consistent with DfE guidelines on teaching RSE. Our framework for teaching RSE is set within the context of developing positive relationships, family and emotional well-being. It is taught through a range of class activities including circle time, videos and discussions.
Although you have the right to withdraw your child from parts of the RSE curriculum, we would strongly urge that you support the programme and encourage your child to participate fully in lessons. It is vitally important that your child receives clear and relevant information rather than picking up misinformation from friends, siblings or the internet (to name just three sources).
SWIMMING

At Ivy Lane School our cohorts from Year 3 and 4 are offered swimming lessons to work through the National Curriculum targets.
Currently, 74% of our Year 6 children are able to use a range of strokes effectively including front crawl, backstroke and breaststroke. 70% can competently, confidently and proficiently swim 25m unaided and 38% are able to perform self-rescue in different water based situations.