FOILS
FOILS are a group of Parents and Staff who organise a variety of fundraising events throughout the year including Discos, Non-Uniform days, Cake sales and Quiz nights as well as Christmas and Summer Fayres. All money raised goes towards buying new equipment and resources for the school and funding interesting experiences for the children.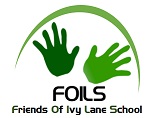 The generosity of the Ivy Lane parents and carers has meant that we have been able to improve both facilities and learning equipment for the children. Money raised recently has funded a new modular stage and lights for assemblies and productions, Farm Cookery School experience, a PA system, Sensory equipment, iPads and a big contribution to improving the outdoor area for Early Years.
So, a massive Thank you to the wonderful community at Ivy Lane School!
We are always looking for new members and volunteers. If you would like to become involved in the running of FOILS (attending meetings, helping to organise events) or give us and hour or two of your time to help at a disco or run a stall at a fayre, we would very much appreciate it - we can't do it without you!
Please contact us by email on: FOILS@ivylane.wilts.sch.uk.
Follow us by clicking on this Facebook link.