FOILS
F.O.I.L.S. are a group of Parents and Staff who organise a variety of fundraising events throughout the year including Discos, Mufti days, Cake sales and Quiz nights as well as Christmas and Summer Fayres. All money raised at these events is put together to purchase items for the children which the school budget cannot meet.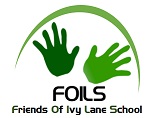 The generosity of the Ivy Lane parents and carers of Ivy Lane pupils has meant that we have been able to improve both facilities and learning equipment for the children. Money raised over the last year went towards building the super Outdoor Stage and the amazing Tree House! So, thank you to the wonderful community at Ivy Lane School!
If you have any ideas for F.O.I.L.S., or would like to join the team, do give your details to the office or contact FOILS on the following e-mail address:
FOILS@ivylane.wilts.sch.uk.